A400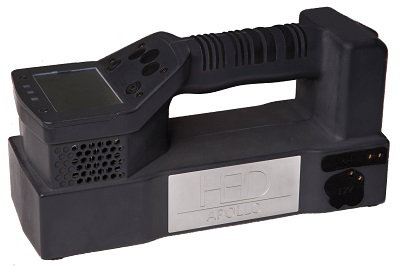 Handheld Radioisotope Identification Device (RIID)
The H3D® A400 is the new standard in radioisotope identification devices, combining excellent energy resolution with directionality without the need for cryogenic cooling.
Features
Compact and portable
Designed to exceed ANSI N42.34
Real-time 360° isotope-specific directionality
Industry-leading efficiency and energy resolution
Applications
Border security
First responders
Military and defense
Environmental radiation measurements
Model
Resolution (% FWHM @ 662keV)
Spectrometer Range (keV)
Imaging Range (keV)
Collimator (" Tungsten)
CZT Volume (cm3)
Weight (lbs.)
Battery Life (hrs.)
IP Rating
Temperature Rating (°F)
Startup Time (minutes)
User Interface
Spec Sheet
More Information
Contact us for more information, a demo, or quotation.
A400 and related systems are patent protected by: U.S. Pat No. 7,411,197 and U.S. Pat No. 7,692,155 under license from the University of Michigan, and U.S. Pat No. 10,032,264.
©Copyright 2014-2019 H3D, Inc., Ann Arbor, MI, USA
info@h3dgamma.com | +1 734 661 6416 | Join our mailing list! | Privacy Policy