Polaris-H™
Imaging Spectrometer for Nuclear Power Plants
Polaris-H™ was developed for nuclear power plants as a complete solution for the identification, quantification, and localization of gamma-ray sources.
Handheld and less than 8 lbs.
Full imaging of each isotope's distribution over all directions
Integrated optical camera for overlaying radiation image
Near 1% FWHM energy resolution at 662 keV
Airtight and watertight for easy decontamination
Start-up time less than 2 minutes
Integrated laser range finder
Automated identification, and library selectable from full 3573-isotope ENDF library
Wireless tablet displays spectrum and image
Based on 3D-position-sensitive CdZnTe (CZT)
Polaris-H™ Quad is a higher-efficiency version of Polaris-H™. See Polaris-H™ Quad's spec sheet for more information.
Polaris-H™ Shield is a collimated version of Polaris-H™. See Polaris-H™ Shield's spec sheet for more information.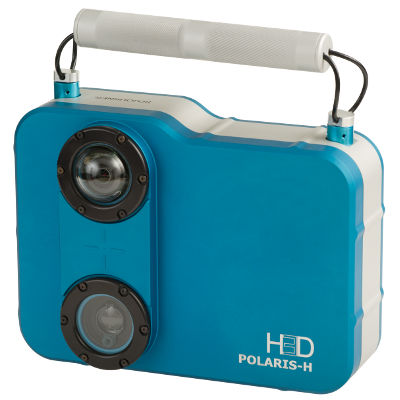 How might I use Polaris-H™ at my plant?
The Polaris-H™ package comes with:
The complete Polaris-H™ device, with integrated optical camera, radiation camera, radiation spectrometer, 7-hour battery life, carrying handle, power adapter to plug it into the wall, and USB stick to store data
2 years of warranty
2 years of guaranteed calibration
2 years of free software updates
Unlimited technical support
The rights to use the device anywhere you want
Windows-based analysis software for advanced post-processing of recorded data, with Excel integration
A tablet to operate the device
Signup to receive future updates about H3D and our products here.
Polaris-H™ and related systems are patent protected by: U.S. Pat No. 7,411,197 and U.S. Pat No. 7,692,155 under license from the University of Michigan.