Apollo™
Handheld Radiation Identifier
Apollo™ is a high-efficiency radio-isotope identification device (RIID) with better than 1.0% FWHM energy resolution and directionality.
Comparable resolution to HPGe, but go from storage to measurement in 90 s
Detection times equivalent to 2" NaI(Tl) [ref]
Real-time isotope-specific directionality over all directions
Automated identification, and library selectable from full 3573-isotope ENDF library
IP66 ingress protection for field use
Works in high-dose (500 mrem/hr) environments
Full warranty and updates for 2 years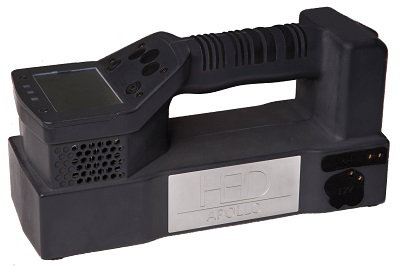 Use Apollo™ anywhere you need a handheld instrument to identify and localize isotopes in the field. Apollo™ is perfect for:
Secondary Inspection
Security Applications
Environmental Radiation Measurements
Signup to receive future updates about H3D and our products here.
Apollo™ and related systems are patent protected by: U.S. Pat No. 7,411,197 and U.S. Pat No. 7,692,155 under license from the University of Michigan.